We drove up to The 'Burgh on Saturday for a weekend in our new house. It was delightful. We had one couch, an air mattress and a few blankets. The kids loved sleeping on the floor of the huge, empty living room. The new house sports a delightful wood burning fireplace. All weekend we had logs blazing. Curly was in heaven. I loved parking in a garage that is attached to my house. Curly wasn't sure he would really care about it, until it rained Sunday and no one got wet getting in and out of the car. The longer I stayed there, the happier I was with our choice. It's a great house. Except the decorations. Since we're renting it for 6 months before we can buy it, I will have to live with a burgundy red floral border in Ginger's room. And sponge painting in the kitchen. But man, in 6 months, watch out. That stuff is going away.
We left Curly there to start work, and then the kids and I came back. We are getting into the swing of things, and adding having house showings into the mix. It can be a pain, but I really want this puppy to sell. The separation from Curly is short term. He's back this weekend and then again in a week and a half for the move. I am not ready to say goodbye. I don't know if I'll ever be ready. It's getting close, so I better do the best I can.
I have been really good for the past month or two in not adding to my fabric stash. You don't even want to know how many bins it fit in when I packed up my sewing room. Let's just say a lot. I feel like rewarding my good behavior. I think I need to make new Christmas stockings for the new house. I have my eye on
this fabric
. I think they would be darling stockings. I was trolling etsy this morning and found a
kit for this quilt
: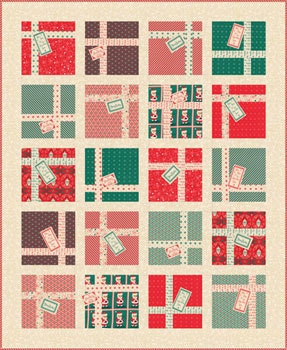 I neeeeeeeed it.